". . . the surveying profession is fortunate in that it has a well developed sense of history, and that one of the important lessons that this historical perspective provides is that change in the profession is constant and inevitable."
European Congress of Surveyors 2008 Strasbourg, France
The purpose of surveying has remained somewhat the same over time: establishing boundaries, creating maps for navigation, and developing land. However, while the purposes remain constant, the survey tools used over time have progressed alongside human technology, and with each advancement, they improve the accuracy and speed at which surveying can be done. In recent years, the Geomatics industry has been captivated by the possibilities of working with unmanned aerial systems (UAS). Survey companies are actively transitioning from testing UAV systems to integrating our technology into their enterprises.
​
Increase Productivity
By example, an average UAV crew (pilot and co-pilot) operating from a convenient vantage point could cover a 120-acre site in one 21-minute flight at 100 meters above the ground surface.

Alternatively, to expand coverage, you can increase your height to 120m, increase your flight speed, and change your lens to cover a 1 sq. Km area or 247 acres in a single 21-minute flight. The Infinite Jib™ Surveyor 630 UAS gives you a wide range of flight parameters you can select to have your survey flight record the photographs to match the parameters of your project.
High Resolution Orthomosaic with Contours Stockpile Quantities​
Consider the advantage of flying just three, 17-minute flights to cover a 300-acre quarry, collecting precision geospatial data that could be processed within a day of the aerial survey. The flight plans can be saved and executed every day if required. Site planners would be able to calculate stockpile volume, identify new sites with the highest yield potential and potentially monitor work activity near a creek on the property, ensuring that your job was in line with environmental regulations.​
High Resolution Photo compared to Dense Point Cloud​
Approved by Transport Canada, our compliant Surveyor 630 UAS provides you with a dynamic scope of usefulness that you can leverage to complete your projects. Capable of effectively operating in both confined urban spaces to large rural landscapes - from community design and development to site assessment and remediation.​
Increase Job Safety
Major industries continue to work diligently addressing the complex issues of health, safety and environment (HSE), yet it remains one of the top priorities in local, regional and global organizations. Improved health and safety standards help companies become more effective to finish projects on time and improve their business profile with customers and clients. When there is a need to capture information of a remote or hazardous area, companies are increasingly turning to our UAV technology to reduce risks and prevent job site accidents.

According to the Occupational, Safety and Health Association estimates, in North American alone, workplace injuries and illnesses cost employers billions per week in worker's compensation without factoring in the additional costs that result from lost productivity, staffing replacements and repairs to damaged equipment. Our systems are being used to perform inspections in a safer manner, identify potential hazards before they become costly and dangerous; thus improving the safety at industrial worksites.

Infinite Jib™ aircraft perform real-time, remote inspections and reduce the need for your crews to be in potentially dangerous areas.
Photo courtesy of Pascal Mercier Surveyor Arpentage Parleciel Inc.​
On November 17 2017, Transport Canada issued a new SFOC to expand the area of operation to the rest of Canada. Consequently, Arpentage Parleciel becomes one of the first companies, if not the first company, to obtain a compliant SFOC valid in all Canadian provinces and territories.

On November 1st, Arpentage Parleciel, a land survey firm based in New Richmond, Qc, received the first compliant operator Special Flight Operations Certificate. This type of SFOC, less restrictive than a complex or simplified operator type, allow the company to fly almost anywhere in the province of Quebec without prior notification to Transport Canada. Applying to this SFOC required Arpentage Parleciel to prove their compliance on three major criteria: UAV, pilot qualifications and manuals and procedures.

The company chose the Infinite Jib Surveyor 630 UAV. This UAS designed in Ontario for technical data acquisition is listed on the compliant UAV list since May 2016. Its 6 motors in a "Y" configuration enable the aircraft to lift loads up to 4 kg in winds gusting up to 80 km/h. The stability of the Surveyor 630 is making that UAV suitable for professional land surveying operations.

As for training, all the pilots of the company were trained by Spectral Aviation Based on Transport Canada's TP15263, the courses allowed Arpentage Parleciel's employee to gain the required level of knowledge. The certificate provided by the training organization then enabled the New Richmond company to show a solid proof of qualification to the civil aviation regulation body.

Regarding the development of procedures, the New Richmond based company called on the expertise of Spectral Aviation's team in order to advise and guide them for the writing of an operations manual containing procedures to meet the requirements of a compliant small UAV operator as stated in the SI 623-001. It was then possible for Arpentage Parleciel to operate for several years under the conditions of complex operator SFOC and thus show their high degree of professionalism and their aptitude to carry out safe operations.

Unlike recent incidents involving UAVs being flown dangerously close to manned aircraft, it is encouraging to see companies increasingly concerned about their safe integration to the Canadian airspace and, while aiming for compliancy, being granted more operational freedom by Transport Canada.
​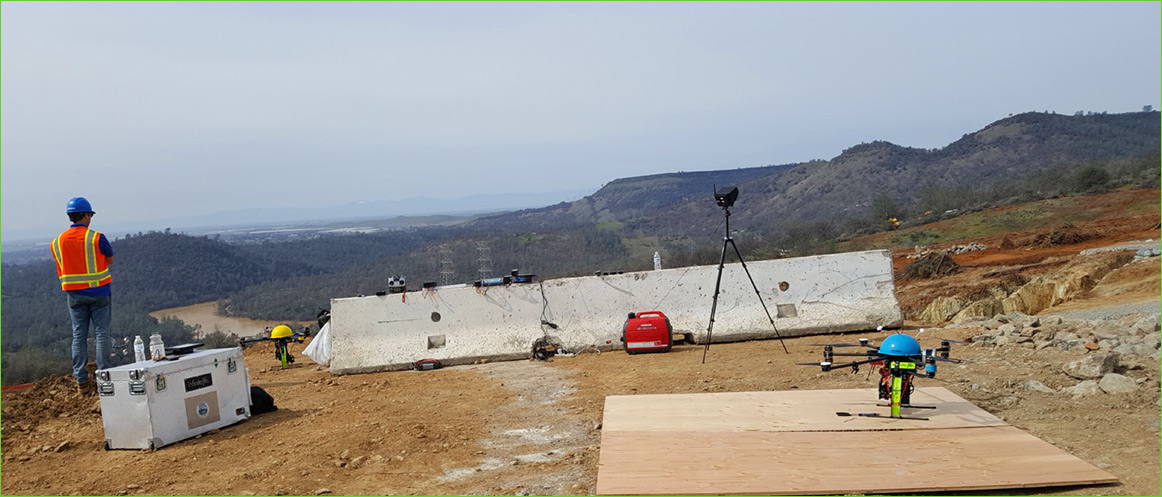 Photo courtesy of Hypack Inc.​
Over the years, our clients have actively explored how to expand opportunities for UAV inspections. Requirements emerged to operate larger DSLR cameras, Optical Gas Imaging (OGI) and in some cases combine sensor payloads. Due to the robust design of our UAVs, we have been able to modify and upgrade existing systems to satisfy our client's needs. When faced with a unique, specific requirement, our highly trained technicians not only to help determine the feasibility but develop a design strategy for the custom build.

At Infinite Jib™ we are constantly developing new solutions to enhance safety features, increase productivity, performance and maintain compliance with evolving regulations.
It is our mandate to develop the means whereby new technologies can be retrofitted onto existing Infinite Jib™ aircraft systems to add more value and sustainability to your investment.​

Recommended UAV Systems:
• Surveyor 630 Photogrammetry UAS Solution
• Orion 700 Thermal / Photogrammetry UAS Solution

• Nexus 800 LiDAR / Photogrammetry UAS Solution
INTELLIGENT REMOTE SENSING INDUSTRIAL UAV SYSTEMS